FSU's Computer Writing Classrooms include three rooms: Williams 217, 310, and 317. Williams 217 and 310 are networked classrooms that come equipped with twenty-two student machines along the walls of the room and a seminar table in the middle of the room.Williams 317 is a laptop-ready classroom with two projectors and two smartboards with laptop inputs. Williams 217, 310, and 317 also include an instructor's Smartstation with document camera, DVD player, and sound/projector controls.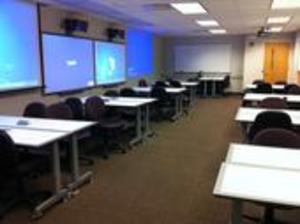 Each student machine in Williams 217 and 310 has an internet connection, accepts external storage devices through a USB port, and has a headphone jack for listening to student projects with audio components. The student machines in 217 and 310 also have a number of programs installed on every machine.
Microsoft Office Word

Publisher
Powerpoint
Excel

Adobe Creative Suite

Photoshop
Indesign
Illustrator

Windows Movie Maker
Audacity
Gimp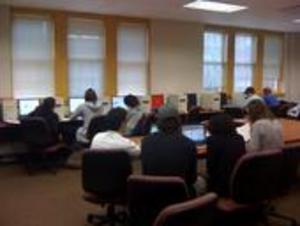 These programs give students the opportunity to workshop ongoing multimedia and multimodal projects, collaborate on short projects during class, and seek advice from instructors and their peers about ways of combining audio, visual, and textual elements in their writing. If you have an assignment planned that requires a program that is not installed on these machines, contact the Computer Writing Classroom administrators.