How to Make an Appointment

The writing center's online scheduling system allows students to make appointments from their computer, tablet, or smartphone. Our appointment slots are 45 minutes. Students are allowed to make one appointment per day and up to two appointments per week. You can schedule your appointment up to 7 days in advance. 

Step 1: If you haven't used our service before, register for an account here.

Step 2: Once you have registered, you will receive an email confirmation. Log back in at fsu.mywconline.com 

Step 3: Select a schedule: Writing Center @ Williams, Johnston, or Strozier (In person and Zoom sessions) and Writing Center @ Online (Zoom only sessions).

Step 4: Find an appointment using the calendar view or smart cards (see below). You can set your preference under system settings.

Calendar View: In calendar view, white boxes indicate open time slots. When you find a time that works for you, click on the white box and enter your information. Save the appointment.

Smart Cards: with smart cards, select your preferred day, time, meeting type, and/or staff member. WCOnline will present you with appointment cards that are closest to your preferences. Select one that works for you or restart your search for other options.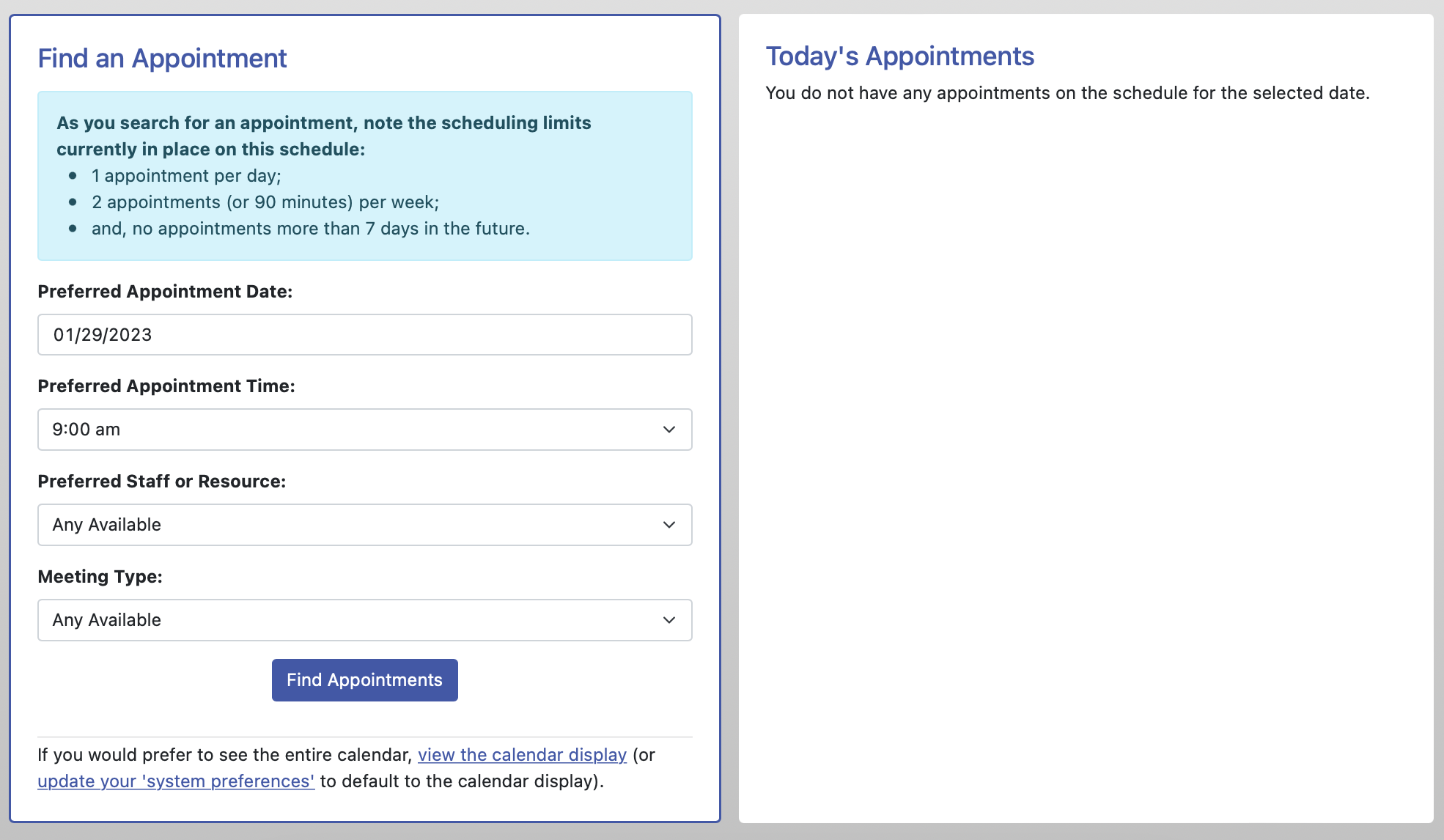 Even if your default display is set to Smart Cards, you can still see the calendars by selecting View Calendar Display at the bottom of this page.  

Step 5: You will receive an email confirmation after your appointment has been made. You can log back into the system at any time to change or cancel your appointment.
Note: Please cancel your in-person or Zoom meeting appointment if you can't attend. This frees up the appointment time for others. If you do not cancel and miss your appointment, we will mark you as a no-show. Three no-shows and your account will automatically be deactivated until you contact the RWC Director (english-rwc@fsu.edu) who will respond when they can.
---
Consultations
Undergraduate Sessions
Undergraduate students are welcome to bring in academic, creative, and professional writing. Writing center consultants can work with students at any stage of the writing process. We recognize that writing is a situated practice that looks different from one subject or discipline to another, and that understanding is the core of our approach. Consultants can help students identify project goals while considering the audience(s) and conventions in their area of study.
You don't have to be struggling to visit. In fact, consultants can simply be a sounding board or first reader for your ideas. We can help you get started with a project and keep going. We will listen to whatever you have to say about Standard Academic English, writing "rules" and your personal relationship with language, and we will support your decisions about your own voice as a writer. And, of course, we will also help if you have specific questions – or would like suggestions – about the structure, clarity, and flow of a draft assignment or about your (or your professor's) sentence-level concerns around grammar and punctuation. The final decisions will be yours.
Graduate Sessions
We regularly meet with graduate students working on seminar papers, theses, dissertations, and other long-form projects such as articles for publication. Ideally, these dialogues become a collaboration that includes input from advisers so that consideration is given to both form and content as the project develops. We also frequently work with bilingual and multilingual students at the graduate level, addressing the particular challenges of producing a long manuscript in academic English. We are happy to help with the text and strategic approaches to producing your best written work.