The Writing Center | We work best when we work with others.
The Florida State University Reading-Writing Center (RWC) is an inclusive resource for FSU students of all majors, programs, and backgrounds. Whether you are working on a paper or larger writing project, the RWC-DS can assist you during any stage of your work process.
In the RWC, our consultants act as practice audiences for ideas and projects. Here are some of the ways we can work with you:  
You are working on a research essay that calls for using scholarly articles and synthesizing sources.
You are writing a personal statement for different graduate programs.
You are writing a piece of fiction, creative nonfiction, and/or poetry and would like feedback.
You are putting together a conference article or research presentation.
You are revising a thesis or dissertation section.
Whether in person or online, we're committed to providing sessions that help you to express your ideas in academics and beyond. 
---
Schedule a Meeting
The Writing Center is open for in-person and Zoom meetings. If you have not used the writing center before, learn how to make an appointment.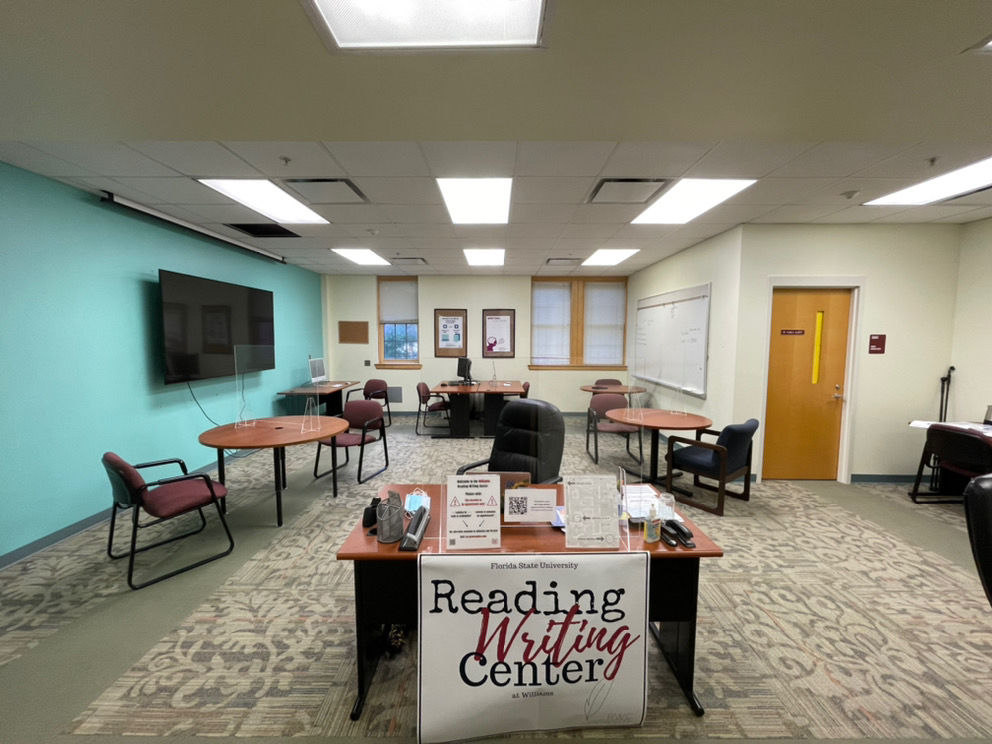 ​
Williams
631 University Way
Located in the English department on the second floor (room 222), our main writing center holds sessions Monday through Friday.
Please note: the Williams building is NOT the William-Johnston building! This location is on the east side of campus near Westcott Fountain between Dodd Hall and Diffenbaugh Building.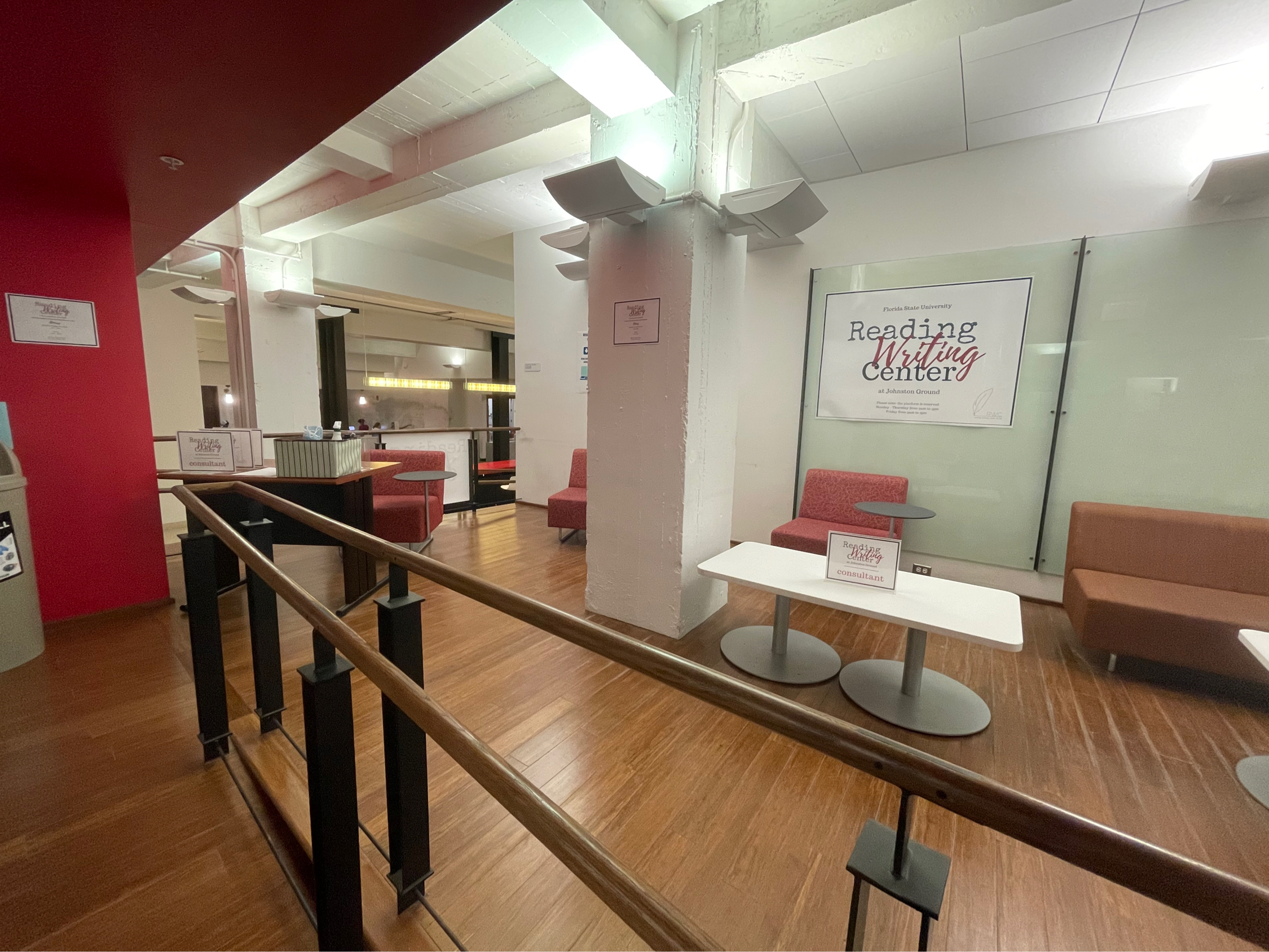 ​
Johnston
143 Honors Way
The RWC has a satellite location in the Johnston (William-Johnston) building on the ground floor platform area Monday through Friday.
The Johnston location is in the center of campus next to Landis Green and the Honors College. Look for the large writing center sign across from the main staircase in the lobby.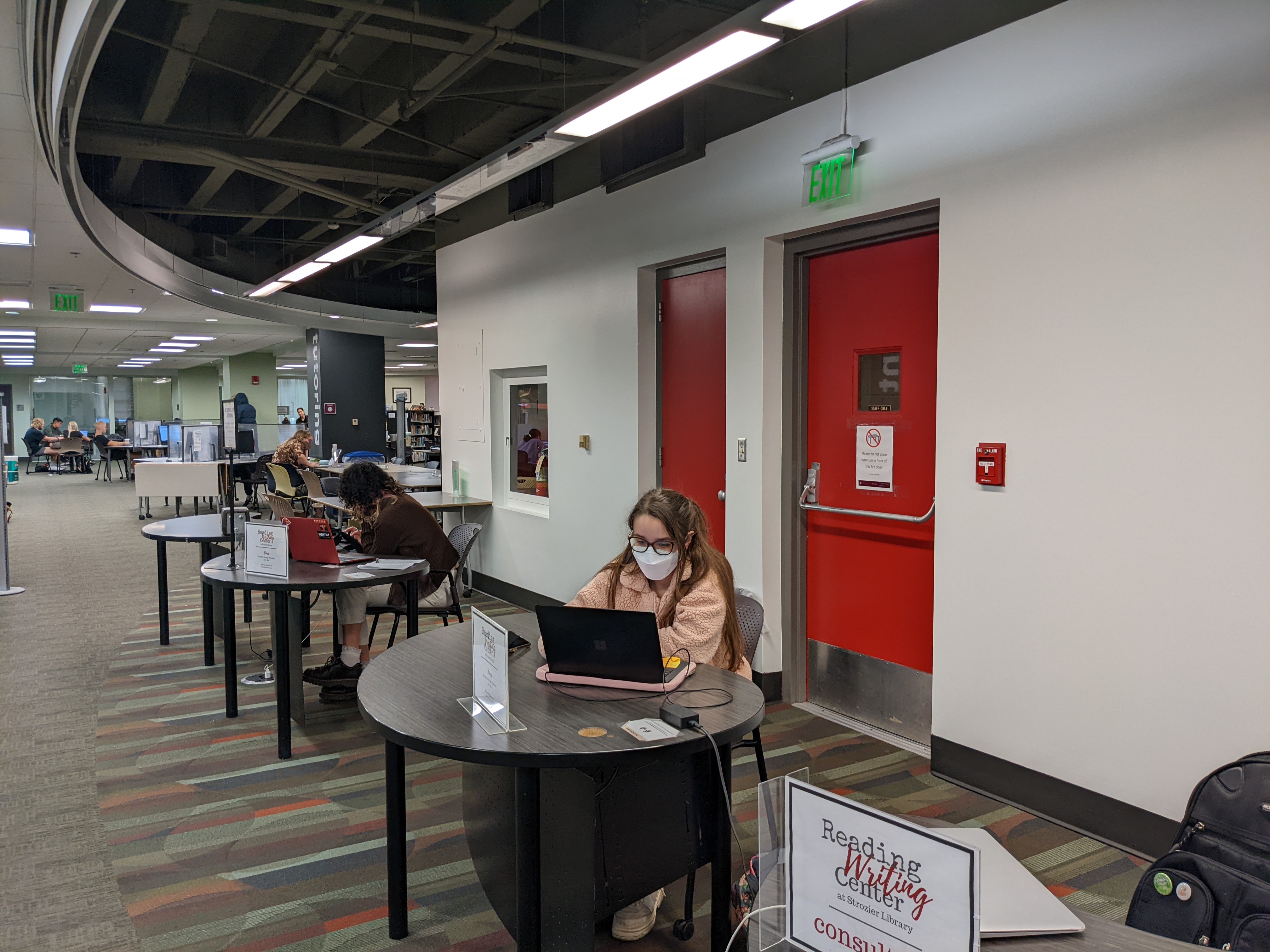 ​
Strozier
116 Honors Way
Looking for later times? The RWC is in Strozier library Monday through Thursday from 5-8pm. We are located on the first floor near the circulation desk.
Look for the writing center signs on the small kidney bean tables, in-between the computers and lounge area. Can't find us? Visit the circulation desk for assistance.
You can view a map of our campus locations here.
Hours of Operation
fall 2023 (sept. 5 - dec. 8)
We offer in-person and Zoom appointments across all locations. Please note our operating hours are in Eastern Standard Time (EST).
Writing Center @ Williams (English Building, Room 222)
| | |
| --- | --- |
| Monday | 10:00 a.m. to 2:00 p.m. |
| Tuesday | 10:00 a.m. to 5:00 p.m. |
| Wednesday | 10:00 a.m. to 3:00 p.m. |
| Thursday | 10:00 a.m. to 5:00 p.m. |
| Friday | 10:00 a.m. to 2:00 p.m.  |
---
Writing Center @ Johnston (Ground Floor Platform Area)
| | |
| --- | --- |
| Monday | 10:00 a.m. to 5:00 p.m. |
| Tuesday | Closed |
| Wednesday | 10:00 a.m. to 5:00 p.m. |
| Thursday | 10:00 a.m. to 5:00 p.m. |
| Friday | 10:00 a.m. to 2:00 p.m.  |
---
Writing Center @ Strozier (Near Circulation)
| | |
| --- | --- |
| Monday | 5:00 p.m. to 8:00 p.m. |
| Tuesday | 5:00 p.m. to 8:00 p.m. |
| Wednesday | 5:00 p.m. to 8:00 p.m. |
| Thursday | 5:00 p.m. to 8:00 p.m. |
| Friday | Closed |
---
Writing Center @ Online (Zoom Only)
| | |
| --- | --- |
| Monday | 10:00 a.m. to 8:00 p.m. |
| Tuesday | 1:00 p.m. to 8:00 p.m. |
| Wednesday | 10:00 a.m. to 8:00 p.m. |
| Thursday | 2:00 p.m. to 8:00 p.m. |
| Friday | 10:00 a.m. to 2:00 p.m. |
To make an appointment or to see our availability, go to fsu.mywconline.com   
---
Stay in Touch
english-rwc-ds@fsu.edu 

| 

@fsurwc