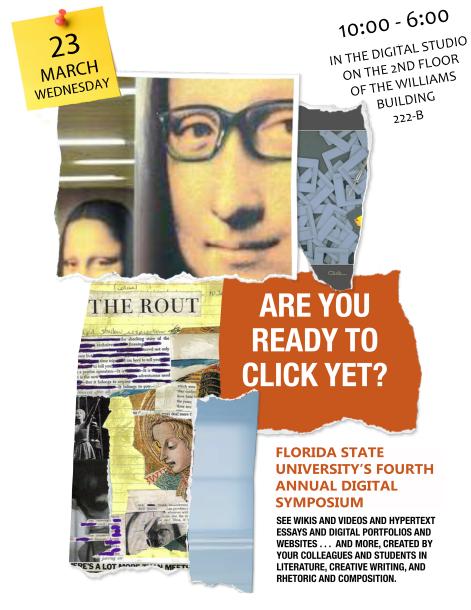 The Digital Symposium is an annual event held during the Spring semester in the Williams Digital Studio. The Symposium is a showcase of scholarship, coursework, and pedagogy that takes seriously possibilities researching, teaching, and composing with digital media and digital technologies.
---
Seventh Symposium
The Seventh Digital Symposium took place on February 24, 2016, and carried on the tradition of showcasing and supporting digital work in the English Department. As with last year, we displayed the work of graduate and undergraduate students in our department's three programs and hosted speakers who explained their work and composing processes.
---
Sixth Symposium
The sixth Digital Symposium took place on February 18, 2015, and again added to the original vision of the event. Undergraduates, graduates, and faculty in all three English tracks contributed projects, and we also hosted live speakers who contextualized, explained, and discussed their work.
---
Fifth Symposium
Held on March 5th, 2014, the fifth Digital Symposium expanded the scope of texts and activities included in the Symposium showcase. Materials included in the fifth Symposium include: faculty and graduate research, undergraduate coursework, first-year composition coursework, and both undergraduate and graduate professional materials.
---
Fourth Symposium
Check out the website for the 4th Annual Digital Symposium, which was held in the Digital Studio on March 23, 2011.  The artifacts in this year's Symposium are divided among five genres: newsletters, essays, remediations, re-designs, and portfolios.  The work submitted to this year's Symposium was created by students in the first-year composition program or in the Editing, Writing, and Media (EWM) undergraduate track.